Our Fleet / Our Waka
Our sheer depth of industry knowledge means we can provide a seamless experience, even if this is your first coffee van hire.
We stock a comprehensive range of espresso coffee bars and machines to suit all types of events.
With the flexibility to tailor packages to all budgets and cater in doors or out doors Samāori Coffee will ensure a seamless, transparent and friendly service.
From community and festival street vendor to high end corporate or marketing and advertising events our mobile espresso bars add culture and customer service guaranteed to impress!
We can design solutions based on your requirements and are happy to cater to unique enquires and all events sizes, so just chat with us about your preferences.
Please note: All equipment can be branded or non-branded.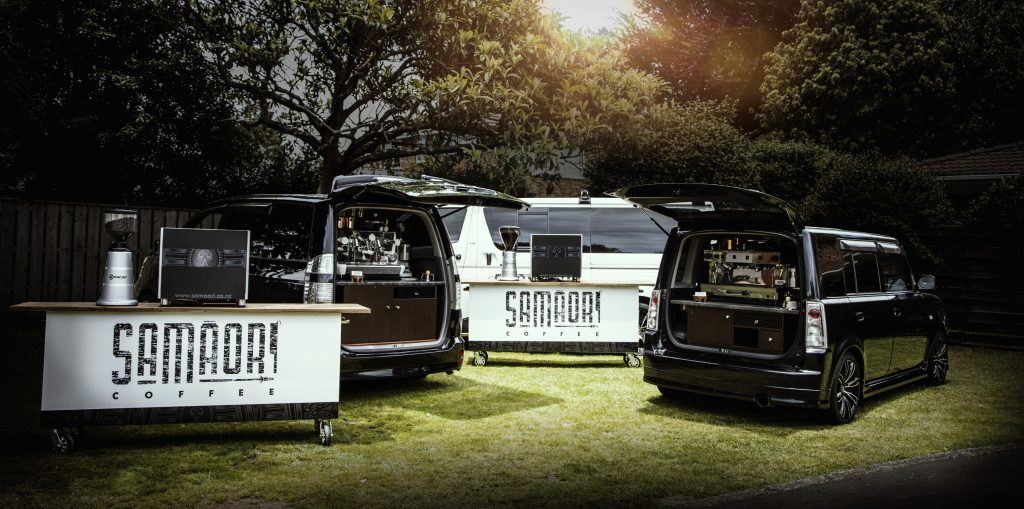 ESPRESSO COFFEE – VAN / CAR
Our Espresso Van/ Car take the hassle out of any event with the ability to be situated anywhere you require.
Fully self sufficient with water and waste and can generate power without the sound of a noisy generator!
This moving coffee machine can be hired for a couple hours, a few hours, half a day or full day!
Perfect for events where power supply is limited or on the move marketing.
The capability of these 2 set ups can last all day long without turning the car key on.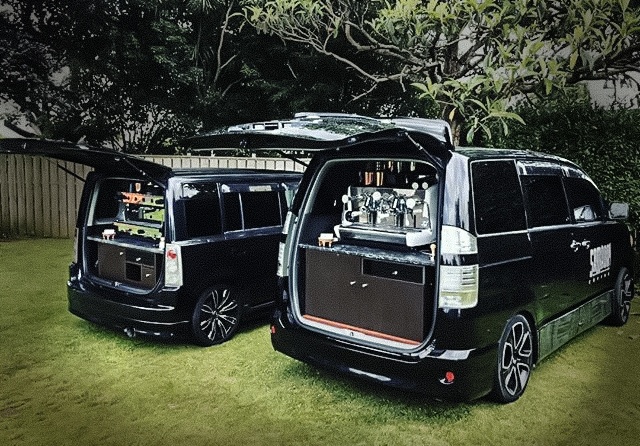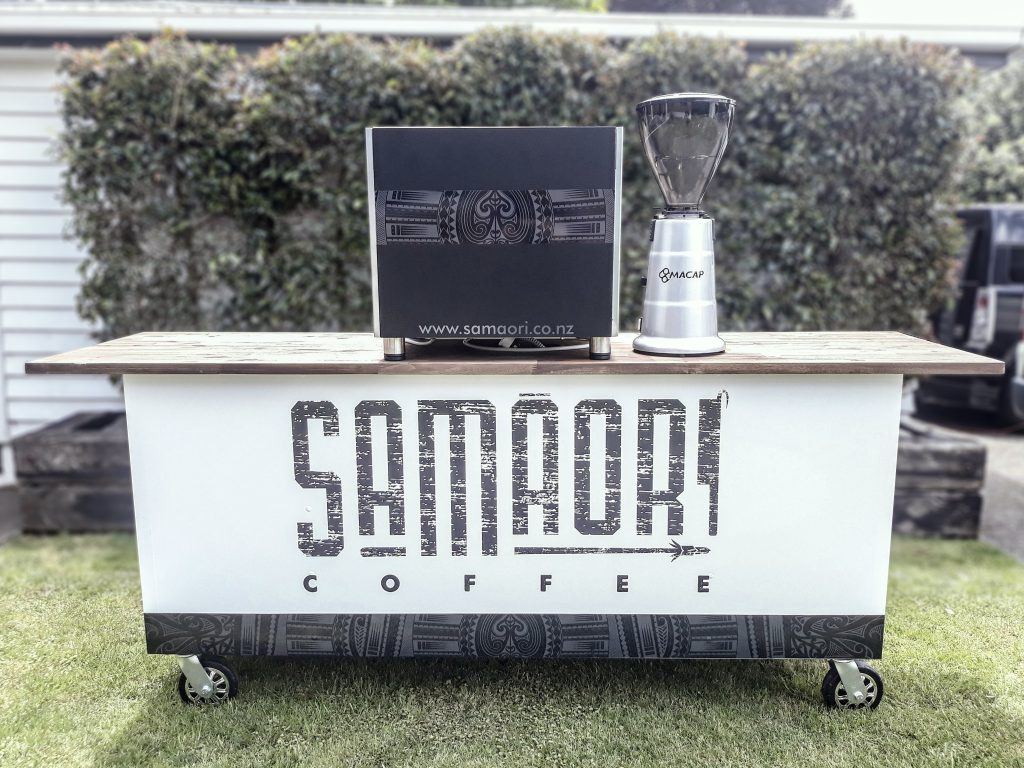 ESPRESSO BARS – Indoor / Outdoor
Clean sleek and tidy!
Seminars, Conferences, Meetings this setup can be wheeled in through any doorway and set up where ever you like!
Perfect for re-branding and promotions our mobile espresso bars can be wheeled into any office workspace.
These mobile espresso bars are easy to set up at your venue we just need to hook up to power to start grinding!
Great for interval breaks or all day hireage!
We can provide all the measurements or help coordinate the best way to get your brand advertised on this set up.
TRAILERS – Major Events / Outdoors
Light me up!
Perfect for day or night events with full LED lighting.
These are the powerhouses for large capacity events and all day setups or stand out promotions.
Equip with water and waste, filtered tap water and sink these setups can pump up to 500 + cups no sweat without refilling.
The machinery will keep up with demand ensuring efficient and fast service all day long without compromising quality.
Currently 2 trailers with a 3rd identical getting rebuilt Samāori Coffee is ready to brew and be your caffeinated fix!
Ice Coffee, Ice Chocolate, Ice mocha and a couple signature flavors available on these set ups.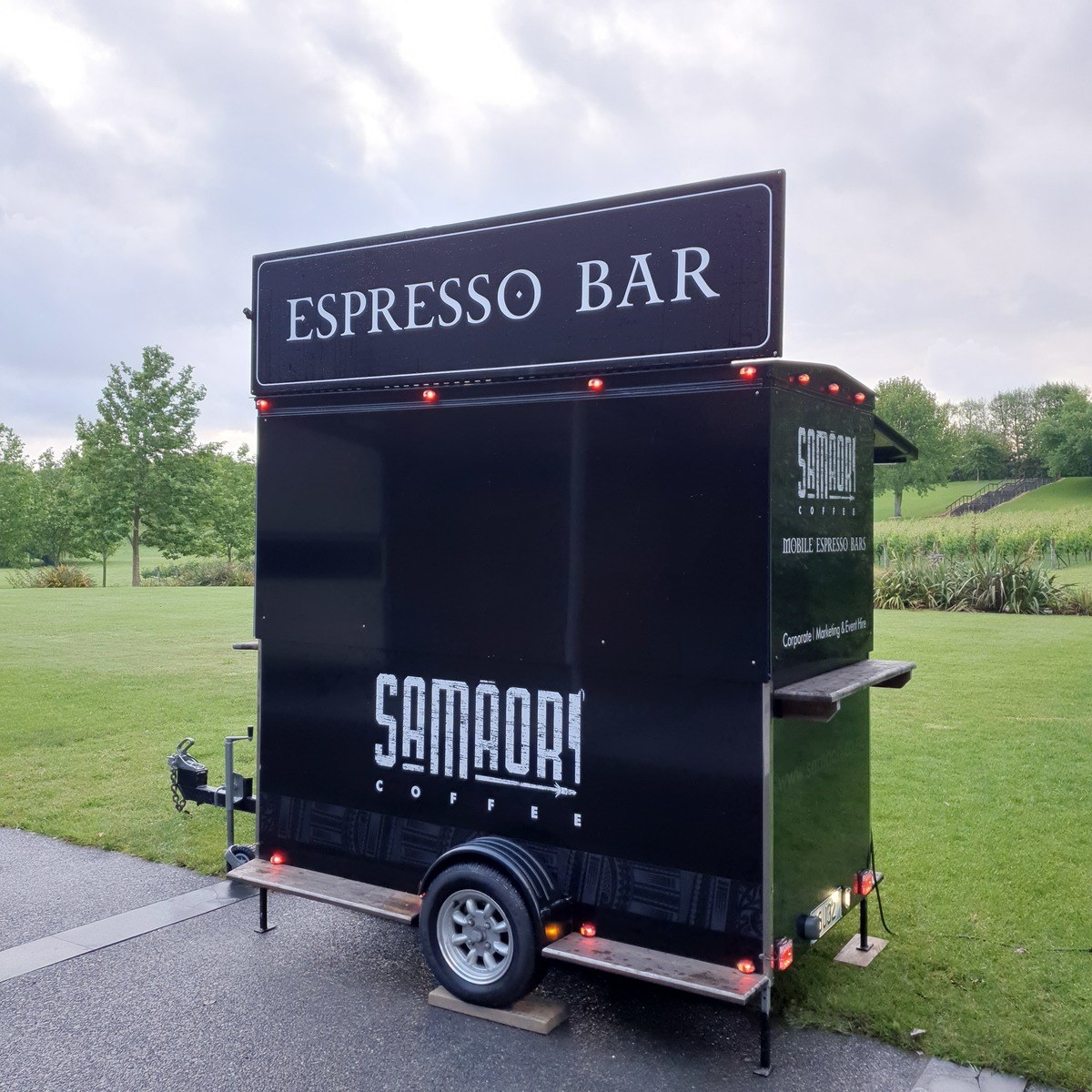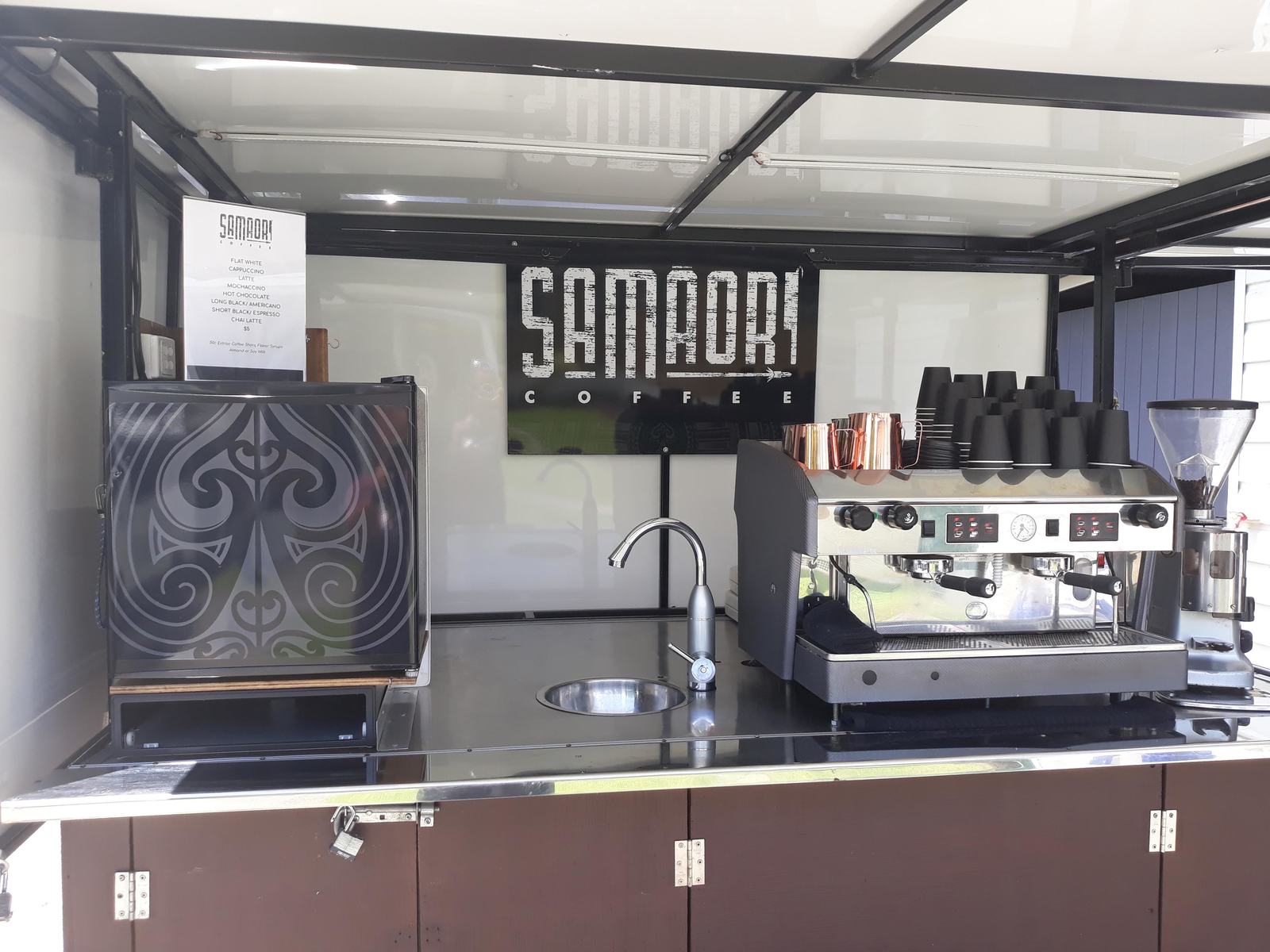 All Espresso Bar/ Cart Hire Service includes
Experienced Barista
Quality Fresh Premium Samāori Coffee
Decaf – Organic Fair Trade
Rich Hot Chocolate (35% cocoa)
Chai Latte
Selection of Organic Teas
Raw Sugar and Stevia/ Sweetener
Milk – Full Cream, Skim/Trim
Compostable Cups & Lids
Additional extras – available on request
Milk options Soy, Almond and Coconut
Flavored Syrups Vanilla, Caramel, Hazelnut
Special orders can be made for variety of product.
We can coordinate customised cupcakes, cookies or help coordinate with breakfast, lunch and morning/ afternoon tea for your event.
Tell us what you need and we will make it happen!
POWER
Access to 10 amp, 15 amp or 32 amp
For Indoor events, we can run off regular power outlet
Our outside coffee carts can run off 15 amp, 32 amp which is found at most commercial venues, stadiums or conference centre
We can also provide our own power using our own quite stand-alone generator
IMPORTANT
Food Safety Certificate
Safe Work Method ( available upon request)
Auckland Council Verified & Certified
Public Liability Insured
Electrical Tag Tested and certified
Testimonials / Ngā whakahoki kōrero
Say Hello
Lets Kōrero…
Samāori Coffee Crew are ready to brew and take the stress out of your next event by providing the expertise in set up with great aroma of fresh grinded coffee poured professionally at any location.
We have a variety of options and packages to choose from.